Is Life Unfair?

Why me?
This is one of the many questions we ask ourselves whenever things are going so bad for us. We think that life is unfair because of the troubles that come our way. We get frustrated and depressed, because we are not able to get or do what we want. When that happens, anger starts building deep inside us until such time that we want to scream and blame God for being so unfair. Why is God being so unfair? Why did He let the heathens prosper and those who trust in Him don't?
We envy those who are always lucky because they got big and happy family and they have everything they want. They are lucky because they have cars, wonderful houses, and all the comforts they can have. They got money and they got everything while we suffer and have none of what they have. When the rich becomes sick, they have the means to get the best form of care and attention from the top notch physicians, while the poor get poorer and sicker because they can't afford the services of the people who should be helping them.
We go looking for a job just only to be turned down because we don't know someone from the inside who can turn a blind eye and just approve everything. We make friends but they only betray us. And when we think we are finally making progress to getting what we want, disaster strikes. Then we cry out to God to ask for His help, and yet we still feel that we are alone on our own. It's unfair He doesn't make things easy for us.
We feel dismayed, downcast, and unwilling to take another step forward. We feel as if we were born without a purpose, and that we are useless in this life. We turn to Heaven and ask, "Why me, God? Why am I one of those people who should suffer and not get a fair share of happiness, contentment, fame, or an easy life once in a while? Why must I be born in this world just to be a useless piece of Your creation? Where are You when I needed You most?"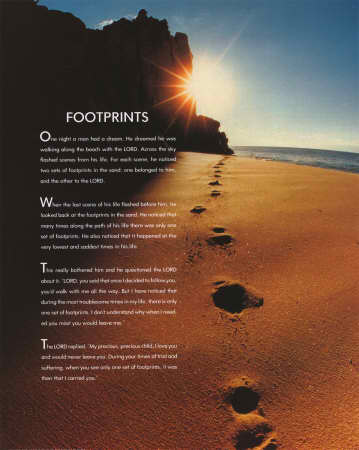 Footprint in the Sand by Guy and Ralna
The song is an old one but still a beautiful one. It is about a person who dreamed and thought God has abandoned him, but throughout all the struggles and hardships he's been through, God has always been there carrying and helping him.
We thought that we are alone in our journey in this world. In reality, we are the ones making life unfair for us. We are not satisfied with what God has given us. We were never grateful that we have a Heavenly Father Who owns all the riches and everything in this world. We never thought that even the biggest struggle and darkest moment, there is Someone up there willing to carry us through.
We always blame Him for every bad thing that happens, and for every frustration and failure, but we never thought of letting Him carry us through. If we could just stop struggling on our own, stop thinking of the unfairness of life and take a moment to be still, we will hear our Heavenly Father's soothing voice saying "My child, my precious child, I love you and I would never leave you. During your times of suffering when you could see only one set of footprints, it was then that I carried you."
What I learned
In this world, I've learned that envying and coveting others' wealth, fame, and all of this world's treasures can only make life miserable and void. But even if I could have accumulated all of these worldly riches if I have not God, life would remain miserable. I realized that life has never been unfair. I realized more that God will never be unfair. He is a just and a loving God. He only knows to give what is best for His children. Better be a beggar whose life is in God and used for His glory than to be the richest person on earth and yet the most miserable one because he doesn't know God.
Comforting Bible Verses
Commit your ways to the Lord. "Commit to the LORD whatever you do, and he will establish your plans." – Proverbs 16:3
Trust God. "Delight thyself also in the Lord: and he shall give thee the desires of thine heart. Commit thy way unto the Lord; trust also in him; and he shall bring it to pass." – Psalm 37:4-5
God's ways higher than your ways. "My thoughts are nothing like your thoughts," says the Lord. "And my ways are far beyond anything you could imagine. For just as the heavens are higher than the earth, so my ways are higher than your ways and my thoughts higher than your thoughts." – Isaiah 55:8-9
God will be with you. "When you go through deep waters, I will be with you." - Isaiah 43:2
Don't be afraid and discouraged. "Don't be afraid, for I am with you. Don't be discouraged, for I am your God. I will strengthen you and help you. I will hold you up with my victorious right hand." – Isaiah 41:10